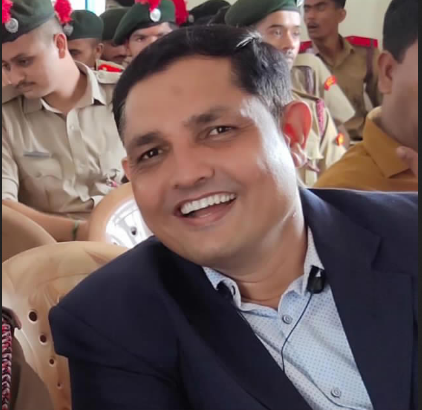 Principal Message
Dear Students,
Welcome to Sheth S.V. Arts & Commerce College, Mandvi, a milestone of esteemed academic excellence and extracurricular performances and First Commerce College of Kachchh District. Our College has its deep root in the field of education in the Kachchh. Our College Managements commitment is to provide a safe and intellectually environment that will empower students to become innovative thinkers, creative problem solvers and inspired learners and be ready for digital era. I am proud to lead this college and also I feel proud and privileged to be the part of this Magnificent college and my great privileged as principal of this college. We are running profession courses like BCom, B A, and many curriculum activities NCC, NSS BAOU Study Center and imparting professional knowledge as well as discipline for next coming generations of professional.
I believe and accept that education is a formative process, then the schools, college and the teachers in particular have a greater role to play in the fast changing world of society today to instil human values in students and to prepare them to face life as it comes. As we step into these new academic fields, everyone is filled with hope and dreams of scaling new heights; I wish to reiterate the importance of few things that we have to keep in mind. Parents should remember that children should not be forced, but should be guided to achieve whatever goals they may have in their minds in an easy and pleasing manner, so that we may be able to discover the particular touch of genius in each one of them. The purpose of education is to teach our children to think and develop a capacity to reason out facts. Students should keep in mind the importance of planning and prioritizing their time and the effective use of it which are essential to achieve success.
Students should work hard particularly in professional studies. Think wisely, think systematically, Think different and be different in today's competitive world where everyone want to have successful future. With experienced and dedicated teachers and excellent infrastructure of our college always helps students to achieve their goals in life. I encourage all students to take advantage of the opportunities provided by the college and involve themselves. High standards and expectations for each student in regard to academic performance, co-curricular participation and responsible citizenship are the foundation of our college. It is with pride that we hold these high standards and ask each of our students to commit to maintaining the extra ordinary record of achievement and contribution that has been the legacy of our students for the past years.
The college has a distinguish reputation in the field of sports and cultural activities too. Our sports and cultural students are winning accolades at the state and national level. Moreover discipline, which is a non-negotiable factor of a students' life on our campus inculcates the value of time management and punctuality; ensure your attendance in the classes. Endeavour to be better human being while foraying in the competitive life, realizing your dreams. Honesty and integrity should be your second names. And with this you would definitely turn out to be the best citizens endowed with humanistic values after getting formally instructed from this institution and would open new horizons of development and bliss for your country.
I am pleased to acknowledge that Sheth S.V. Arts & Commerce College lays its stress not just on academic excellence but on "character formation with academic excellence". It motivates students to "always aim high" and cultivate core values as a first place for the Divine, integrity of character and maturity in behaviour, pursuit of excellence and creative genius, respect of the human person with an emphasis for elders and teachers, loyalty to the nation and a balanced understanding of the prevailing global situation
Remember what you are doing now, you are doing for tomorrow. You are building a portfolio of knowledge and skills pertinent to your vision of your own future in the world. My staff and I will be pleased to assist you to realize that vision in every way we can.
Wishing you all Good Luck.